24. oktober 2007 skrevet af:
Thomas Damholt
Forleden aften så jeg med stor begejstring på nettet DR2s seneste to udgaver af Musikprogrammet. De sætter fokus på de for tiden mest hotte danske musikentrepreneører: Thomas Troelsen og Ane Trolle. Begge blæksprutter sig altid dygtigt rundt i mange forskellige sammenhænge og i alskens musikgenrer.
Thomas Troelsen har en fortid som altoverskyggende frontmand for Superheroes og en nutid som selviscenesættende excentrisk genial producer á la Phil Spector og har bl.a. medvirket mere end kraftigt til TV2s comeback. Og lige nu som - igen - altoverskyggende frontmand, nu i tre mands bandet Private, der netop har udgivet albummet My Secret Lover, der er et destillat af den mest poppede af 70′ernes og 80′ernes dansepop, måske allermest inspireret af Michael Jackson, men også af navne som Army of Lovers.
Programmet er jo egentlig om Private, men det er totalt Thomas Troelsens show og det er en ren nydelse at se med hvilken præcision han styrer det hele - selvfølgelig musikken, men også alt det udenom: fotosessions, musikvideooptagelse, interviews, ja alt det der image-noget. Og, ja hvem ved måske er Private det nye Aqua - i hvert fald er førstesinglen nr. 1 på den danske airplayliste for tiden og i mit hovede nynnes den også lystigt i tide og utide.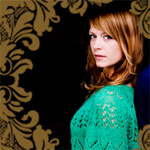 Ane Trolle besidder simpelthen tidens SANGSTEMME. Hun er stemmen i Trentemøller's Moan, stemmen i Trolle & Siebenhaars Sweet Dogs, en af stemmerne i , som de selv kalder det, lsdpop bandet JaConfetti, der roterer konstant på P3. Hun har gang i stærke samarbejder med bl.a. Peder, Blæs Boogie og Steffen Brandt. Ja, hun har naturligvis dansk rocks godfather Steffen Brandt velsignelse.
Hendes stemme er blød, sexet, soulet, sådan hen ad Billie Holliday, og den giver mindelser om Portishead's Beth Gibbons' stemme, men er selvfølgelig helt sin egen. Og hun er frem for alt, viser udgaven af Musikprogrammet, også musikalsk helt sin egen og meget mere end bare en stemme. Et melodisk og tekstligt talent, som mange - og mig med - venter sig meget af og der er da også ifølge Ane Trolle, heldigvis, et soloalbum så småt i støbeskeen.
Så skynd jer ind på Musikprogrammets hjemmeside og bliv musikalsk oplyst og beriget, mens Musikprogrammet endnu eksisterer. Ja, Musikprogrammet lukker hér i efteråret, som så meget andet DR kvalitetsfjernsyn. Snart er der vel ikke andet at se på TV end Vild med dans, Stjerne for en aften og Syng med talentløse! og hvad de ellers hedder alle de der programmer…
Lån Private via netmusik.dk
Lån Ane Trolle via netmusik.dk
Private på myspace
Ane Trolle på myspace